Comitês de Bacia no Brasil: uma abordagem política no estudo da participação social
Palavras-chave:
comitês de bacia hidrográfica, redes, aprendizado, água.
Resumo
Este artigo propõe um marco conceitual para o estudo da gestão de recursos hídricos, no contexto de reforma institucional. Desde o início dos anos 1990, a governança descentralizada e participativa da água vem sendo institucionalizada no Brasil por meio da criação de Comitês de Bacia Hidrográfica. Os Comitês incluem governos, usuários de água (privados e públicos) e sociedade civil e têm competência legal para aprovar planos, definir critérios para cobrança da água bruta, alocar recursos gerados pela cobrança, arbitrar conflitos, além de outras atribuições. Nossa pesquisa sugere que a criação de tais fóruns deliberativos nem sempre resulta na democratização do processo decisório ou em aumento de sua eficácia. As chances de sucesso aumentam consideravelmente quando as lideranças confrontam a questão da sustentabilidade política desde o início, reconhecendo a necessidade de se obter colaboração interna e apoio externo para as atividades dos comitês. O artigo conclui que isso ocorre como conseqüência de práticas que levam à construção de redes entre indivíduos e organizações e estimulam o aprendizado. O nível de empreendedorismo político que fomenta tais práticas, mais do que a natureza dos problemas enfrentados nas bacias, ou a disponibilidade de soluções técnicas apropriadas, distingue os comitês mais efetivos dos demais.
Downloads
Não há dados estatísticos.
Referências
ABERS, R. "Idéias e interesses em políticas participativas: Reflexões a partir dos orçamentos participativos e os comitês de bacia hidrográfica." Sociedade e Estado, 18 (1/2): 257-290. Jan/Dez. Universidade de Brasília, 2003.
ABERS, R. Rebecca, 2000. Inventing Local Democracy: Grassroots Politics in Brazil. Boulder, Colorado: Lynne Rienner Publisher.
ABERS, R. Rebecca e KECK, Margaret, 2003. "Networks, Relations and Practices: Reflections on Watershed Management Organization in Brazil". Trabalho apresentado no XXIV International Congress of the Latin American Studies Association (LASA). Dallas, Texas, 27-29 de março de 2003.
ABERS, R. Rebecca e KECK, Margaret, 2004. "Muddy Waters: Decentralization, Coordination and Power Struggle in the Brazilian Water Management Reform" Trabalho apresentado XXV International Congress of the Latin American Studies Association (LASA). 7-9 de outubro de 2004, Las Vegas.
AGRAWAL, A.; GIBSON, C. (Orgs.) Communities and the Environment: Ethnicity, Gender and the State in Community Based Conservation. New Brunswick, NJ: Rutgers University Press, 2001.
BURT, R. S. Structural Holes: The Social Structure of Competition. Cambridge, Mass: Harvard University Press, 1992.
BURT, R. S. "Structural Holes versus Network Closure as Social Capital." In: LIN, N.; COOK, K. C.; BURT, R. (Orgs.) SocialCapital: Theory and Research. Hawthorne, NY: Aldine de Gruyter, 2001. p.31-56.
BURT, R. S. "Bridge Decay." Social Networks, 24: 333-63, 2002. CHAIKLIN, S.; LAVE, J. Understanding Practice: Perspectives on Activity e Context. Cambridge: Cambridge University Press, 1996.
GARMAN, C.; HAGGARD, S.;WILLIS, E. "Fiscal Decentralization: A Political Theory with Latin American Cases." WorldPolitics, 53: 205-36, 2001.
GLEIK, P. The World's Water 2000-2001, Washington D.C.: Island Press, 2000.
HUTCHCROFT, P. Centralization and Decentralization in Administration and Politics: Assessing Territorial Dimensions of Authority and Power." Governance 14(1): 2353, 2001.
KECK, M. E. "Governance Regimes and Transnational Activism." In: UHLIN, A.; PIPER, N. (Eds.) Transnational Activism in Asia: Problems of Power and Democracy. London: Routledge, 2003.
KECK, M. E. Margaret, "'Water, Water, Everywhere, Nor any Drop to Drink': Land Use and Water Quality in São Paulo." In: EVANS, P. (Org.) Livable Cities? Urban Struggles for Livelihood and Sustainability. Berkeley: University of California Press, 2002.
LAVE, J.; WENGER, E. Situated Learning: Legitimate Peripheral participation. Cambridge, Cambridge University Press, 1991.
LEMOS, M. C. "A Tale of Two Policies: the Politics of Seasonal Climate Forecast Use in Ceará, Brazil." Policy Sciences, 36: 101-123, 2003.
LEMOS, M. C. M. C. e OLIVEIRA, J. L. F. de. "Can Water Reform Survive Politics?". World Development. (No prelo.)
LIN, N. Social Capital: A Theory of Social Structure and Action. Cambridge: Cambridge University Press, 2001a.
LIN, N. "Building a Network Theory of Social Capital." In: LIN, N.; COOK, K.; BURT, R. S. (Orgs.) Social Capital: Theory and Research. Hawthorne, NY: Aldine de Gruyter, 2001b. p.3-30.
MARQUES, E. C. Redes Sociais, instituições e atores políticos no governo da Cidade de São Paulo. São Paulo: Annablume, 2003.
MARQUES, E. C. Eduardo César, 2000. Estado e Redes Sociais: Permeabilidade e Coesão nas Políticas Urbanas no Rio de Janeiro. São Paulo: Fapesp/ Editora Revan.
MISCHE, A. De estudantes a cidadãos: redes de jovens e participação política. Revista Brasileira de Educação, n.5-6, p.134-50, 1997.
MISCHE, A.; WHITE, H. "Between Conversation and Situation: Public Switching Dynamics across Network Domains." Social Research, 65(3):695-724, 1998.
PUTNAM, R. D. Making Democracy Work: Civic Traditions in Modern Italy. Princeton: Princeton University Press, 1993.
RIBOT, J. Democratic Decentralization of Natural Resources: Institutionalizing Popular Participation. Washington, DC: World Resources Institute, 2002.
RHODES, R. A. W. "The New Governance: Governing without Government." Political Studies, 44 (4): 652-67, 1996.
SEWELL, W. H., Jr., "A Theory of Structure: Duality, Agency, and Transformation." American Journal of Sociology, 98(1):1-29, jul. 1992.
SHEINGATE, A. "Entrepreneurs, Institutions, and American Political Development." Trabalho apresentado no 2002 Annual Meeting of the American Political Science Association, Boston, Mass.: 29 de agosto a 1 de setembro de 2002.
SNOW, D. A.; ROCHFORD JR E. Burke; WORDEN, S. K.; BENFORD, R. D., 1986. "Frame Alignment Processes, Micromobilization, and Movement Participation." American Sociological Review, 51:464-81, ago. 1986.
TENDLER, J. Good Government in the Tropics. Baltimore, MD: Johns Hopkins University Press, 1996.
TILLY, C. From Mobilization to Revolution. Reading, MA: Addison-Wesley, 1978.
UPHOFF, N. Learning from Gal Oya: Possibilities for Participatory Development and Post-Newtonian Social Science. Ithaca: Cornell University Press, 1992.
WÄLTI, S.; KÜBLER, D.; PAPADOPOULOS, Y. "How Democratic is "Governance"? Lessons from Swiss Drug Policy." Governance: An International Journal of Policy, Administration, and Institutions, 17(1): 83-113, 2004.
WENGER, E. Communities of Practice: Learning, Meaning, and Identity. Cambridge: Cambridge University Press, 1998.
WUNSCH, J. "Institutional Analysis and Decentralization: Developing an Analytical Framework for Effective Third World Administrative Reform". In: MCGINNIS, M. (Ed.) Polycentric Governance and Development, The University of Michigan Press, Ann Arbor, 1999.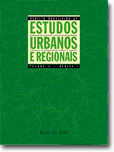 Downloads
Licença
Autores/as que publicam nesta revista concordam com os seguintes termos:
1. Autores/as que publicam na RBEUR mantêm os direitos sobre a sua obra e concedem à revista o direito de primeira publicação, realizada sob a Licença Creative Commons Attribution que permite o compartilhamento do trabalho e assevera o reconhecimento da autoria e do veículo de publicação original, a RBEUR.
2. Autores/as têm liberdade para publicação e distribuição não-exclusiva da versão do trabalho publicada nesta revista (ex.: publicar em repositório institucional ou como capítulo de livro), reafirmando a autoria e o reconhecimento do veículo de publicação original, a RBEUR.