Nueva estatidad bajo la re-emergencia regional: la reelaboración del proyecto neoliberal y sus alternativas en la periferia
Víctor Ramiro Fernández

IIETE – Instituto de Investigación Estado, Territorio y Economía, da Universidad Nacional del Litoral, Santa Fe

Lucas Gabriel Cardozo

IIETE – Instituto de Investigación Estado, Territorio y Economía, da Universidad Nacional del Litoral, Santa Fe
Palavras-chave:
región, workfare, periferia, redes económicas, redes políticas.
Resumo
Posicionado desde la periferia – y con acento en el contexto latinoamericano–el artículo explora la reconfiguración funcional y espacial del Estado y de las dinámicas regionales que se articulan al mismo. Se sostiene que el paso de una matriz welfarista hacia nuevas formas de workfaristas de implicación del Estado y de configuración de las dinámicas regionales, más que una superación presenta el riesgo de constituir una reelaboración del proyecto neoliberal, fortalecido y articulado a través de las redes económicas y políticas globales, con particulares impactos en la periferia. Se fundamenta cómo la hegemónica revisión discursiva y de prácticas producida a través de esas redes expresa una funcionalidad con la integración subordinada a los intereses de los actores trasnacionales que las controlan. En forma alternativa, se argumenta la necesidad estratégica de una construcción discursiva contra-hegemónica, concentro en la capacidad autónoma, nodal y articuladora de las dinámicas regionales del Estado.
Downloads
Não há dados estatísticos.
Referências
AMSDEM, A. Asia ́s next giant: South Korea and late Industrialization.Oxford University Press, 1989. 400p.
BANCO MUNDIAL. "El estado en un mundo en transformación". Informe sobre el desarrollo mundial. Washington D. C, 1997.
BAIR, J., "Global capitalism and commodity chains: Looking back, go forward". Competition and Change, 9(2), p.163–180, 2005.
BOISIER, S., "Las regiones como espacios socialmente construidos". Revista de la CEPAL, n. 35, p. 39-54, 1988.
BREATHNACH, P., "From spatial keynesianism to post-fordist neoliberalism: emerging contradictions in the spatiality of the Irish State". Antipode, 42 (5), p. 1180–1199, 2010.
BRENNER, N. "La formación de la ciudad global y el re-escalamiento del espacio del Estado en la Europa Occidental post-fordista". EURE, 29 (86), pp. 05-35, 2003.
BRENNER, N. New State Spaces. Urban Governance and the Rescaling of Stateshood. Oxford: Oxford University Press, 2004a. 351p.
BRENNER N., "Urban governance and the production of new state spaces in western Europe". In: LOUGHLIN, J. (Ed). Subnational Democracy in the European Union. Oxford: Oxford University Press, 2004b. p. 387–400
BRENNER N., PECK J. y THEODORE, N. "After neoliberalization?". Globalizations 7(3), p. 327-345, 2010.
CARDOZO, L.; FERNÁNDEZ, V. y VIGIL. J., "La territorialización de las políticas públicas. El Plan Manos a la Obra en las localidades de Las Parejas y Las Rosas, Departamento Belgrano de la Provincia de Santa Fe, Argentina". Publicado en Actas de las VIII Bienal del Coloquio de Transformaciones Territoriales. Comité de Desarrollo Regional de la Asociación de Universidades del Grupo Montevideo. Universidad de Buenos Aires, 2010.
CAO, H., "El fracaso del proceso descentralizador argentino. Una aproximación desde la crítica a sus supuestos conceptuales". Ponencia presentada en Segundo Congreso Argentino de Administración Pública. Sociedad, Estado y Administración. Ciudad de Córdoba, 27 al 29 de noviembre de 2003.
CAVALCANTI, C.; PRADO, S. Aspectos da Guerra Fiscal no Brasil. Brasília-São Paulo, IPEA, Fundap, 1998. 165p.
CASTELLS, M. The network society. Cambridge MA: Blackwell, 1990.
COOKE, P.; MORGAN, K. The Associational Economy: Firms, Regions and Innovation. Oxford University Press Inc. London, 1998. 264p.
CORAGGIO, J. L. "Descentralización: el día después...", Cuadernos de Postgrado, Serie Cursos y conferencias, Universidad de Buenos Aires, Buenos Aires, 1997.
CORAGGIO, J. L. "Los términos de la cuestión regional en América Latina". In: CORAGGIO, J. L; SABATÉ, A y COLMAN, O. (org.) La cuestión regional en América Latina. Zinacantepec, México: El Colegio Mexiquense, A. C.: Instituto de Investigaciones Económicas, UNAM, [1988] 2010. p.27-60.
CRESCENZI, R.; RODRÍGUEZ-POSE, A., "Reconciling top-down and bottom-up development policies". Environment and planning A, 43 (4), p.773-780, 2011.
CROZIER, M., HUNTINGTON, S.Y WATANUKI, J., The crisis of Democracy. Report on the Governability of democracies to the Trilateral Commission. Ed. New York University Press, 1975. 227p.
DE MATTOS, C. "La descentralización, ¿una nueva panacea para impulsar el desarrollo local?". Cuadernos del CLAEH, Montevideo: Centro Latinoamericano de Economía Humana, n.51, p. 57-75, 1989.
DE MATTOS, C. "La cuestión regional en América Latina antes y después del Seminario sobre cuestión regional". In: CORAGGIO, J. L; SABATÉ, A; COLMAN, O. (org.) La cuestión regional en América Latina. Zinacantepec, Mexico: El Colegio Mexiquense, A. C.: Instituto de Investigaciones Económicas, UNAM, 2010. p. 689-718.
DICKEN, P. Global shift: reshaping the global economic map in the 21st century. Sage Publications, 2003. 632p.
FERNÁNDEZ, V. "Desarrollo Regional bajo transformaciones trans-escalares. ¿Por qué y cómo recuperar la escala nacional?". In: FERNÁNDEZ, V.; BRANDÃO, C. (org.) Escalas y políticas del desarrollo regional. Desafíos para América Latina, Buenos Aires, Miño y Dávila Editores, 2010. p. 301-341.
FERNÁNDEZ, V.; AMIN, A.; VIGIL, J. "Reconsiderando la Nueva Ortodoxia Regionalista en los países centrales y en América latina". In: FERNÁNDEZ, V; AMIN, A.; VIGIL, J. (Org) Repensando el Desarrollo Regional Contribuciones globales para una estrategia latinoamericana. Buenos Aires, Miño y Dávila, 2008a. p. 63-97.
FERNÁNDEZ, V. R. (Dir.); VIGIL, J. I.; GÜEMES, M. C.; VILLALBA, M.; DAVIES; C.; DUNDAS, M. Clusters y Desarrollo Regional en América Latina. Reconsideraciones teóricas y metodológicas a partir de la experiencia argentina. Editorial Miño y Davila. Buenos Aires, 2008b.
FERNÁNDEZ, V.; CARDOZO, L.; GESUALDO, G. y SEVAL, M., "Aglomeraciones productivas y desarrollo regional: una perspectiva contextualizadora y multidimensional". Revista REDES, Revista do Programa de Pós-Graduaçao em Desenvolvimento Regional da UNISC, 15 (1), p. 167-195, 2010.
FERNÁNDEZ, V.; VIGIL J."Clusters en la periferia: Conceptos, análisis y políticas. Un Estudio de caso en Argentina". Revista Comercio Exterior, 59 (2), p. 97-110, 2009.
FRIEDMAN, T. La Tierra es Plana: Breve Historia del Mundo Globalizado del Siglo XXI. Ediciones Martínez Roca, 2006. 495p.
GARRETT, G., DOBBIN, F. y SIMMONS B, "Conclusion". In: SIMMONS, B.; DOBBIN, F; GARRETT, G. (Eds) The Global Diffusion of Markets and Democracy. New York: Cambridge University Press, 2008. p. 344–360.
GILL, S. Power and Resistance in the New World Order. New York: Palgrave Macmillan. 2002. 238p.
GOODWIN, M. y PAINTER J. "Concrete research, urban regimes, and regulation theory", en LAURIA M. (Ed.) Reconstructing urban regime theory: regulating urban politics in a global economy, Thousand Oaks, Ca.: Sage 1996. p. 13-29.
HARVEY, D. "From managerialism to entrepreneurialism: The transformation in urban governance in late capitalism". Geografiska Annaler, 71B, p. 3–17, 1989.
HARVEY, D. The Condition of postmodernity: an enquiry into the origins of cultural change. Cambridge: Basil Blackwell, 1990. 378p.
HOPKINS, T.; WALLERSTEIN, I. "Commodity chains in the world economy prior to1800", Review, 10(1), p. 157-70, 1986.
JESSOP, B. "Post-Fordism and the state". In: AMIN, A. (Ed) Post-Fordism: A Reader. Oxford: Blackwell, 1994. p. 251–79.
JESSOP, B. The Future of the Capitalist State. Cambridge: Polity,2002.
JONES, K., "Scale as epistemology", en Political Geography 17, 1998, pp. 25–28.
KAPLINSKY, R.; READMEN J. Integrating SMEs in Global Value Chains. Towards Partnership for Development. Vienna, Report prepared for UNIDO, 2001.
KARMARKAR, U. Information Technology and Global Value Chains: Growth, Structure and Transformation. CIBER conference, 3 de mayo de 2000.
KEATING, M. Regions and Regionalism in Europe. Edward Elgar, 2005. 242p.
LAURELL, A., "Reforma del Estado y la política social en México". Nueva Sociedad No 164, p. 146-158, 2000.
LOBAO, L.; MARTIN, R.; RODRÍGUEZ-POSE, A."Editorial: rescaling the state: new
modes of institutional-territorial organization". Cambridge Journal of Regions, Economy and Society, 2 (1), p. 3-12, 2009.
MACLEOD, G. "New regionalism reconsidered: globalization and the remaking of political economic space". International Journal of Urban and Regional Research, 25(4), p. 804–829, 2001.
MORGAN, K. "The Polycentric State: New Spaces of Empowerment and Engagement?". Regional Studies, 41, p. 1237-1251, 2007.
O'CONNOR, J. The Fiscal Crisis of the State. St. Martin ́s Press, 1973. 276p.
OHMAE, K. The End of the Nation State: The Rise of Regional Economies. Free Press.1995. 214p.
OSBORNE, D.; GAEBLER. T. Reinventing Government: How the Entrepreneurial Spirit Is Transforming the Public Sector. Reading, MA: Addison-Wesley,1992. 405p.
PECK J. "Neoliberalizing states: thin policies/hard outcomes". Progress in Human Geography, 25(3), p. 445- 455, 2001.
PECK, J. "Economías y políticas de escala: políticas rápidas, relaciones inter escalares y workfare neoliberal". In FERNÁNDEZ, V.; BRANDÃO, C. (Orgs.) Escalas y Políticas del desarrollo regional: desafíos para América Latina, Buenos Aires: Miño & Dávila, 2010. p. 77-120.
PECK J. "Geographies of policy: from transfer-diffusion to mobility-mutation". Progress in Human Geography, 35(6), p. 773-797, 2011.
PECK J. y TICKELL, A. "Jungle law breaks out: neoliberalism and global-local disorder". Area, 26(4), p. 317-326, 1994.
PECK J. y TICKELL, A. "Neoliberalizing Space". Antipode, 34(3), p. 380–404, 2002.
PEET, R. Unholy Trinity: The IMF, World Bank, and WTO. London: Zed Press, 2003. 250p.
PEREZ C. "Cambio tecnológico y oportunidades de desarrollo como blanco móvil". Revista de la CEPAL, n. 75, 2001, p. 115-136.
PIORE, M.; SABEL, C. The Second Industrial Divide: possibilities for prosperity, New York, Basic Books, 1984, p. 309.
POLANYI, K. The Great Transformation: the political and economic origins of our time. Beacon Press, Boston, 1944. 317p.
PORTES, A. "El neoliberalismo y la sociología del desarrollo: tendencias emergentes y efectos inesperados". Perfiles Latinoamericanos, n. 13, p. 9-53, 1999.
PRINCE, R. "Policy transfer, consultants and the geographies of governance". Progress in Human Geography, 36(2), p. 188–203, 2012.
REYES GARMENDIA, E.; SOTO,L; LÓPEZ ORTIZ, H., "México: federalismo versus decentralización". Política y Cultura, 19, 3, p. 27-43, 2003.
RODRIGUEZ-POSE, A.y GILL, N., "The global trend toward devolution and its implications". Environment and Planning C: Government and Policy 21, p. 333-351, 2003.
SABEL, C. "Flexible Specialization and the Re-emergence of Regional Economies", en HIRST, P.; ZEITLIN, J. (Eds.), Reversing Industrial Decline: Industrial Structure and Policy in Britain and Her Competitors.Oxford: Berg, 1989. p.17-70.
SASSEN, S. La ciudad global: New York, London, Tokio, Eudeba, Buenos Aires. 1999. 458p.
SCOTT, A. y STORPER, M. "Regions, Globalization, Development". Regional Studies, 37(6&7), p. 579-593, 2003.
SHONFIELD, A. In defense of the mixed economy. Oxford University Press, 1994. 231p.
SIMMONS, B; DOBBIN, F; GARRETT, G. (Eds), The global diffusion of markets and democracy. New York: Cambridge University Press, 2008. 384p.
SKOCPOL, T. "Review: Wallerstein's World Capitalist System: A Theoretical and Historical Critique". American Journal of Sociology, Vol. 82, No. 5, p. 1075-1090, 1977.
STONE D. "Transfer agents and global networks in the 'transnationalization' of policy". Journal of European Public Policy, 11, p. 545–566, 2004.
TOYE, J. Dilemmas of development. Reflection on the counter-revolution in development theory and police. Basil Blackwell, 1987, p.177.
UNCTAD. "The world's top 100 non-financial TNCs, ranked by foreign assets". Erasmus University database, 2008.
UNRISD – United Nations Research Institute for Social Development. States of Disarray: The social effects of Globalization, Geneva, 1995.
VÁZQUEZ-BARQUERO, A. "Desarrollo endógeno y globalización". Revista Eure, 26 (79), p. 47-65, 2000.
VIANA, L. y FONSECA, F. "Impactos sociais e econômicos da atuação do Banco Interamericano de Desenvolvimento nas políticas públicas". In: Cadernos do Desenvolvimento, Río de Janeiro, 6 (9), p. 199-213, 2011.
WADE, R. Governing the market. Economic Theory and the role of government in East Asian industrialization, Princeton and Oxford: Princeton University Press, 1992. 439p.
WEISS, L. "Gobernanza global, estrategias nacionales: Cómo los Estados hacen espacio para el desenvolverse bajo la OMC". Revista DAAGE. Año 3. n. 4. Santa Fe. República Argentina, p. 7-40, 2003.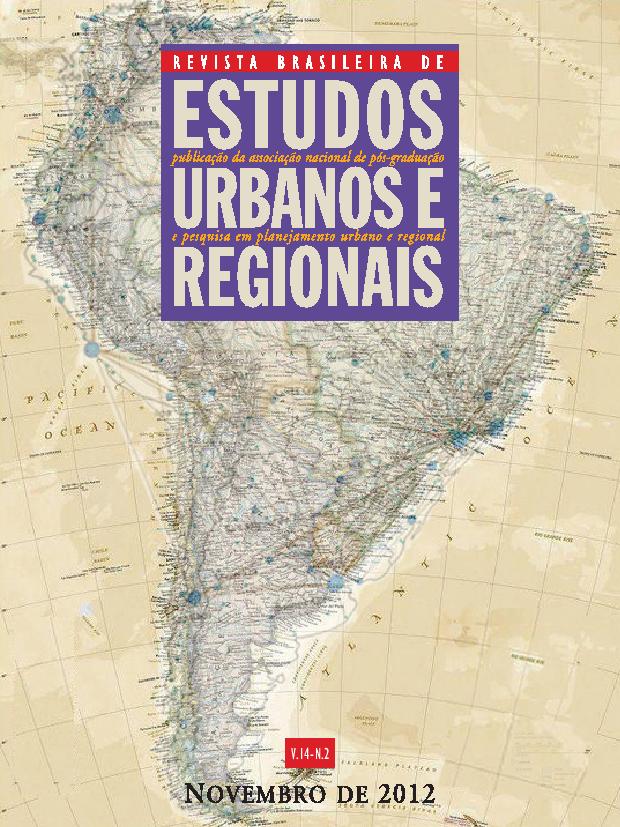 Seção
Repensando o Regional
Copyright (c) 2017 Revista Brasileira de Estudos Urbanos e Regionais
This work is licensed under a
Creative Commons Attribution 4.0 International License
.
Autores/as que publicam nesta revista concordam com os seguintes termos:
1. Autores/as que publicam na RBEUR mantêm os direitos sobre a sua obra e concedem à revista o direito de primeira publicação, realizada sob a Licença Creative Commons Attribution que permite o compartilhamento do trabalho e assevera o reconhecimento da autoria e do veículo de publicação original, a RBEUR.
2. Autores/as têm liberdade para publicação e distribuição não-exclusiva da versão do trabalho publicada nesta revista (ex.: publicar em repositório institucional ou como capítulo de livro), reafirmando a autoria e o reconhecimento do veículo de publicação original, a RBEUR.