Das economias de aglomeração às externalidades dinâmicas de conhecimento: por uma releitura de São Paulo
Alexandre Tinoco

Sciences Economiques na Université de Paris XI ADIS
Palavras-chave:
economias de aglomeração, externalidades de conhecimento, inovação, especialização, diversificação.
Resumo
Ao reconstituir o debate sobre especialização/diversificação setorial como motor do desenvolvimento urbano, este artigo retraça a construção dos conceitos de externalidades dinâmicas MAR e Jacobs e os reutiliza para o estudo dos processos inovativos das empresas industriais da Região Metropolitana de São Paulo. Com isso, busca aprofundar o debate teórico e a interpretação da realidade econômica paulistana da década de 1990, de um enfoque baseado nas estratégias dos agentes econômicos aí presentes. Para tanto, é necessário compreender as estratégias de inserção a redes de informação para o processo inovativo, com base na construção de um portfolio setorial de fontes.
Downloads
Não há dados estatísticos.
Referências
ARROW, K. J. "The economic implications of learning by doing." Review of Economic Studies, 29, 155-173, 1962.
BAIROCH, P. Cities and economic development: from the dawn of history to the present. Chicago: University of Chicago Press, 1988.
BALDWIN, R.; FORSLID, R. "The Core-periphery model and endogenous growth: stabilizing and destabilizing integration." Economica, 67, 307-324, 2000.
BALDWIN, R., MARTIN, P.; OTTAVIANO, G. I. P. "Global income divergence, trade and industrialization: the geography of growth take-offs." Journal of Economic Growth, 6, 5-37, 2001.
BOYER, R.; DIDIER, M. Innovation et croissance. Paris: La Documentation Francaise, 1998.
CARVALHO, R. Q.; FURTADO, A.; BERNARDES, R.; FRANCO, E. "Padrões de inovação tecnológica na indústria paulista: comparação com os países industrializados." São Paulo em Perspectiva – Seade, 13, (1-2), 1999.
CATIN, M. "Économies d'agglomérations et gains de productivité." Revue d'Économie Régionale et Urbaine, 5, 565-598, 1991.
CATIN, M. Economies d'agglomération. In: AURAY, J. P., BAILLY, A., DERYCKE, P. H.; HURIOT, J. M. Encyclopédie d'économie spatiale: concepts, comportements, organisations. Paris: Economica, 1994.
COMBES, P. P. "Economic structure and local growth: France 1984-1993." Journal of Urban Economics, 107, 134-149, 2000.
DASGUPTA, P.; STIGLITZ, J. E. "Uncertainty, industrial structure and the speed of R&D." Bell Journal of Economics, 11, 1-28, 1980.
DESROCHERS, P. "Urban diversity and intersectorial diffusion: Some insights from the study of technical creativity." In: FELDMAN, M.; MASSARD, N. Institutions and systems in the geography of innovation. Boston: Kluver Academic, 2001.
ENGLMANN, F. C.; WALZ, U. "Industrial centers and regional growth in the presence of local inputs." Journal of Regional Science, 35, 3-27, 1995.
FELDMAN, M. The geography of innovations, economics of science, technology and innovation. Boston: Kluwer Academic publishers, 1994.
GLAESER, E. L.; KALLAL, H. D.; SCHEIKMAN, J. A.; SHLEIFER, A. "Growth in cities." Journal of Political Economy, 100(6), 1126-1152, 1992.
HENDERSON, J. V. "Externalities and industrial development." Journal of Urban Economics, 42, 449-470, 1997.
HENDERSON, J. V. "Marshall's scale economies." NBER Working Paper, (7358), 1999.
HENDERSON, V.; KUNCORO, A.; TURNER, M. "Industrial development in cities." Journal of Political Economy, 103, (5), 1067-1090, 1995.
HOOVER, E. M. Location theory and the shoe and leather industries. Cambridge: Harvard University Press, 1936.
ISARD, W. Location and space economy: a general theory relating industrial location, markets areas, land use, trade and urban structure. Cambridge: MIT Press, 1956.
JACOBS, J. The economy of cities. Nova York: Random House, 1969.
JAFFE, A. B.; TRAJTENBERG, M.; HENDERSON, R. "Geographic localization of knowledge spilllovers as evidenced by patent citations." The Quaterly Journal of Economics, 577-598, 1993.
KRUGMAN, P. R. Geography and trade. Cambridge, Mass.: MIT Press, 1991.
KRUGMAN, P. R.; VENABLES, A. "Globalization and the inequality of nations." The Quaterly Journal of Economics, 110, 857-880, 1995.
LUCAS, R. E. J. "On the mechanics of economic development." Journal of Monetary Economy, 22, 3-42, 1988.
MARTIN, P.; OTTAVIANO, G. I. P. "Growing locations: industry location in a model of endogenous growth." European Economic Review, 43, 281-302, 1999.
MASSARD, N.; RIOU, S. Spécialisation et diversité: les enjeux du débat sur la nature des agglomérations innovantes. In: III JOURNÉE DE LA PROXIMITÉ, Paris, 2001. Disponível em www.univ-st-etienne.fr/creuset/pubwp/riou_poxi.pdf
PAVITT, K. "What makes basic research economically useful?" Research Policy, 20(2), 109-119, 1991.
POLÈSE, M. Économie urbaine et régionale: logique spatiale des mutations économiques. Paris: Economica, 1994.
PORTER, M. E. The competitive advantage of nations. Nova York: Free Press, 1990.
ROMER, P. M. "Increasing returns and long-run growth." Journal of Political Economy, 94, 1002-1037, 1986.
ROMER, P. M. "Endogenous technological change." Journal of Political Economy, 98, (5), s71-s101, 1990.
SCHUMPETER, J. A. Capitalism, socialism, and democracy. Nova York: Harper, 1942.
TINOCO, A. D. C. Competitividade, inovação e concentração: repensando o conceito de centralidade da Região Metropolitana de São Paulo. Belo Horizonte, 2001a. Tese (Mestrado) – Universidade Federal de Minas Gerais.
TINOCO, A. D. C. "Integração ou fragmentação: o impasse gerado pelo fetichismo da desconcentração." Espaço & Debates, 41, 46-65, 2001b.
WALTZ, U. "Transport costs, intermediate goods and localized growth." Regional Science and Urban Economics, 26, 671-695, 1996.
WEBER, A. Theory of the location of industries. Chicago: University of Chicago Press, 1929.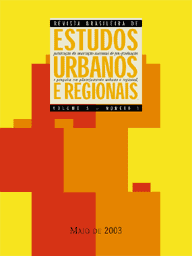 Copyright (c) 2017 Revista Brasileira de Estudos Urbanos e Regionais
This work is licensed under a
Creative Commons Attribution 4.0 International License
.
Autores/as que publicam nesta revista concordam com os seguintes termos:
1. Autores/as que publicam na RBEUR mantêm os direitos sobre a sua obra e concedem à revista o direito de primeira publicação, realizada sob a Licença Creative Commons Attribution que permite o compartilhamento do trabalho e assevera o reconhecimento da autoria e do veículo de publicação original, a RBEUR.
2. Autores/as têm liberdade para publicação e distribuição não-exclusiva da versão do trabalho publicada nesta revista (ex.: publicar em repositório institucional ou como capítulo de livro), reafirmando a autoria e o reconhecimento do veículo de publicação original, a RBEUR.